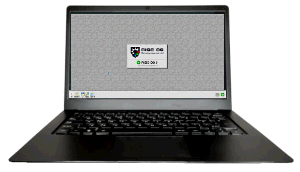 Hello!
I'm Pinebok Pro,
the sexy, new RISC OS laptop.

I cost from 499inc VAT, so...
Why not read on to check me out?
Project History

When the Pinebook, or "Pinebok" as he has become known to his community of friends/fans (following a typo in an early newsletter) was first announced at the London RISC OS Show 2018, it was the first native RISC OS laptop since Acorn's A4. It was a really nice little machine, but the 11.6" screen was a bit on the small side for many users, and the plastic enclosure lacked the luxury feel of more expensive products.

The COVID pandemic and its effects on the electronics industry made that laptop too expensive to manufacture, so we couldn't get any more stock of the base units. This left us back in the classic situation of no RISC OS laptop. The replacement product - the Pinebook Pro - is a much nicer laptop, but uses a completely different ARM CPU, which meant we had to re-do all the work adapting RISC OS to run on it.

18-months later, we're happy to report that RISC OS now runs beautifully on the new model, and he's ready to make is debut to the RISC OS community...
About the Hardware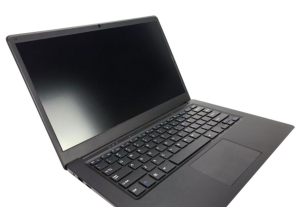 The laptop hardware is rather tasty - its 1.8Ghz Rockchip RK3399 ARM® Cortex A72-based CPU coupled with 4GB DDR4 RAM can easily outpace a Pi4 or Titanium (depending on the test), so it's no slouch. In fact, at the time of writing, it is the fastest stock-clocked RISC OS computer, to the best of our knowledge, in a laptop form factor, running on battery!


Battery life is worth mentioning - we have measure up to 10 hours of battery life on a single charge using RISC OS. This included doing a range of activities, but also a fair bit of idle time too. If you power USB peripherals from the laptop, this will be reduced, although we did use fairly high brightness. We frequently run the battery down to 0% with no ill effects, which will please anyone who's used some other laptops. Pinebok also holds his charge for long periods (months) without significant drops - opening a new laptop after three-four months on the shelf still shows 95+% charge.


Indeed, this phenomenal battery life has resulted in something quite liberating - we're finally able to use a laptop as a truly mobile unit. With every other laptop we've owned, we're always carefully to stay close to a mains socket, and run the laptop on mains to avoid low battery or performance issues. Pinebok couldn't care less - he runs at full speed, even on battery, spending 95% of his life away from his charger. Right now, my laptop is just sat on the desk next to me, and hasn't needed charging for several days.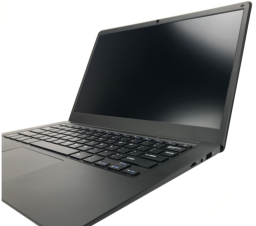 The laptop now features a larger 14" 1080p display, using a high quality IPS panel for excellent viewing angles. The chassis is even thinner, but made of sturdy aluminium. And it is black - apparently that's very important! The larger dimensions allow for a better keyboard, with much improved key travel, and a larger touchpad. There are now three USB ports - two type A ports (one USB2 and one USB3) and a type C. The USB 3 port and the type C port are restricted to USB2 speeds on RISC OS (for now).

Storage is handled by an internal 64GB (upgradeable) eMMC drive which we normally format for RISC OS use. Since this is designed to be an internal drive, it is both faster and (seemingly) more reliable than SD cards. There is, of course, an SD card reader as well, which we would usually use for backup/recovery purposes.

Let's break things up a bit with a few tech-specs:

Six core Arm® A72 architecture RK3399 processor (RISC OS only uses a single core, though)
4096 MB On-board Memory
64 - 300 GB+ of storage
1080p (1920x1080) IPS screen + "Big Mode" for high detail/clarity
Enjoy RISC OS 5.29+ exclusively, or dual boot to Linux (normally Manjaro, but others available)
3 External USB Sockets - two ordinary type-A and one type-C
Wired network adapter (low cost extra if you don't already own), plus WiFi - see below
Built-in touchpad with configurable buttons
Use the supplied mains charger, or charge via USB (charger is a 5v supply)
Up to 11 hours of battery life


HDMI Video Out via USB-C, supporting high resolutions (not yet available under RISC OS).
In the interim, a RISC OS-friendly USB adapter for HDMI/DVI/VGA is available as an add-on
Built-in webcam (not yet available under RISC OS)


Dimensions - An inch longer (width) than an A4 sheet of paper x approx 1cm thickness. (329 x 200 x 12 mm)
Weight - the black, aluminium-chassis laptop weighs just over 1kg. (1.26 kg)


Comprehensive custom software suite including battery management, brightness controls, auto-dimming, automatic network detection, screen locking, updating, cmos configuration, keyboard/pad customisation and much more!
Over 1GB of software, including commercial applications.

The RK3399 Platform

You may not have heard of the RK3399 processor before. With a name like that, is it even a native RISC OS 5 computer, you might wonder? The CPU is made by a company called RockChip, and yes, it is a proper ARMŽ processor, utilising their big.LITTLE design ethos - two Cortex A72 architecture cores, and four A53s. This is important, as it is one of the last CPUs before ARM moved to focussing (almost) exclusively on 64bit for their high performance cores. As you probably know, RISC OS and its applications are 32bit-based (with some older ones being 26bit), so it is important that the Pinebook Pro's CPU have proper 32bit support on their fast A72 cores.


The RK3399 chip is an exciting processor for RISC OS. Not only does it have the all-important 32bit support, but it incorporates a lot of exciting technology, with graphics support up to 4K, high performance DDR4 memory, USB 2 and 3, SDIO for eMMC/SD/wifi, and an exposed PCI-express (PCI-E) bus. This latter element is something that you don't see with (say) a Pi4 where the PCI-E is used for the non-native USB3.


Why is PCI-E important? Well, the latest SSDs (Solid State Disks) sit directly on the PCI-E bus, for maximum performance, so this is rather helpful. At present, we don't have a suitable driver for those, but it is an obvious step forward.


The RK3399 processor can be found in various devices and boards, from the Pinebook Pro through Pi-like boards, up to all-in-one computers. This "family of products" aspect makes the platform attractive for us when porting RISC OS, as there are options for multiple devices. This also means that future RK3399 developments will enhance the Pinebook Pro (which does, indeed, have an optional bay for a PCI-E SSD!).

A Tale of Two OSs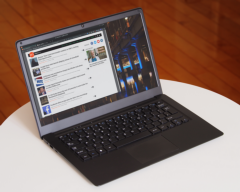 One aspect of the Pinebook that we think is quite intriguing is that we can dual boot either RISC OS or Linux. Bearing in mind that we always felt a strong selling point of our RISCBooks was the convenience of Windows + RISC OS, having Linux (with FireFox and LibreOffice) easily available adds a lot of flexibility.


If you would like to have the second operating system, we normally supply Manjaro ARM Linux, as this is Pine64's usual recommendation for use with their laptops. Other flavours are available on request.


The Linux capability also unlocks additional laptop features such as the WiFi, NVME storage, Webcam and USB-C video.

Let's talk Software
More so than any previous machine, this project has required a comprehensive suite of accompanying software to make sure people can get the most out of their new computer. To this end, we have developed a major new application which integrates with the usual !Configure system of RISC OS, and also sits in Apps, to allow full control of the system...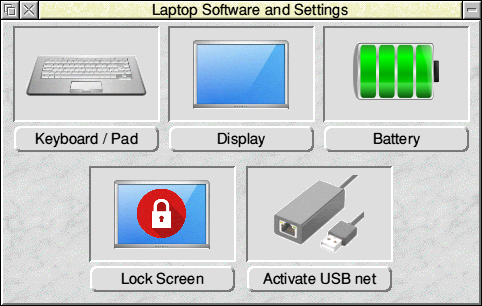 Each section provides a range of facilities for controlling or configuring your laptop:

The Keyboard / Pad section allows you to adjust the keyboard and button mappings for maximum comfort and flexibility.
Display allows you to change the settings for the screen - you can alter the brightness "live" or the default power-on brightness, you can dim the screen, and enable/disable "Big Mode" on-the-fly or at at startup. There is also an auto-dim capability if the laptop is idle.
Battery allows you to see the current charge level and charging status, as well as controlling the iconbar battery display (or disabling it). It can be shown in various styles, with different levels of information. You can also enable/disable battery level warnings etc.
Lock Screen allows you protect your laptop by enabling a password at startup or when the laptop is idle.
The networking facility allows you to activate networking on-the-fly, without rebooting - great for mobility! You can also enable auto-detection so that the laptop's networking will auto-configure the moment you connect a network cable, for maximum convenience and flexibility.
Menus provide easy access to key features, software updates and CMOS setting to name but a few.

Big Mode
The Pinebook is packed full of exciting hardware and software features, but one unique one is "Big Mode". You can access this in a variety of ways - via the Tools shown above, via !Configure or by right-clicking on the Display manager in the bottom-right corner of the screen.


Big Mode, as the name implies, makes everything bigger. In fact, everything becomes twice as large. However, unlike an ordinary zoom or resolution change, Big Mode increases the detail, retaining the full resolution of the screen, but doubling the dots-per-inch (DPI). This allows RISC OS to display many elements with increased clarity, detail and beauty. Fonts become silky smooth, icons gain more detail and even the desktop window furniture looks better!


Would you believe that RISC OS has shipped with high-detail graphics and icons since RISC OS 5 first shipped around 2003. However, display technology has really limited the practicality of high DPI modes until now. The high resolution of the Pinebook laptop, coupled with the screen size, makes it ideally suited to benefiting from this, and Big Mode goes the extra mile to make the experience as smooth as possible.


You can switch in/out of BigMode on the fly, without rebooting. This means you can use it when you fancy some extra clarity, and switch back to normal when you need more screen real-estate. When switching back and forth, Big Mode will actually re-load the appropriate graphic sets applicable to your mode, to ensure everything works smoothly. Additionally, it ensures applications look as good as possible.


We have reached out and worked with the developers of many RISC OS applications to not only ensure full compatibility (as best we can), but also to ensure that where possible, applications gain high detail graphics to take advantage of Big Mode.

Frequently Asked Questions (FAQ)
Do you offer a carry case?
Yes, we offer bags/cases and pouches, typically for prices of £20-30. Please ask if you are interested.


How do you transfer data between RISC OS and Linux?
Since neither RISC OS nor Linux understand each other's disk format, the common ground is the FAT32 disc format. If you choose a dual-boot model, we normally allocate a small amount (eg. 3GB) of the eMMC for shared storge. Should you want to have more space available, we feel that the neatest solution is to use a physically-tiny USB drive of 16 or 32GB capacity (or more). We have a few available, typically protroding no more than a couple of millimetres. Once plugged in, these barely change the profile of the laptop at all, making it all very neat, yet offer healthy amounts of backup, storage or transfer space. And backup space is never a bad idea! Note that the SD card slot can also be used for RISC OS backup.


Are updates free of charge?
Yes, with the possible exception of WiFi (see below).


So what's going on with WiFi?
We should first stress that the laptop hardware has full WiFi support, and that the supplied Linux will allow you to connect to WiFi networks and use the FireFox web browser. This means that you can take the laptop to internet cafes or hotel rooms, and use WiFi.


However, you almost certainly mean "What about WiFi on RISC OS?". The base price of the laptop does not (at the time of writing) include WiFi support because RISC OS (as an operating system) doesn't have WiFi support. However, the Pinebook provides a real platform that needs WiFi, so we have raised funds (from Pinebook orders and elsewhere) to make this happen. It is a big project, and will involve updating the whole of the RISC OS networking infrastructure, so you can imagine that we're not making any promises on timescales. When it is done, it will be available as an upgrade for existing owners, although whether it is free or chargeable will depend on the cost of development.


In the meantime, a wired network adapter is a low cost addon (if you don't already own one). Additionally, wired to wireless bridge devices are available cheaply - typically for around £25-30. These are configured via web browser, and (once set up) provide access to WiFi networks, but they usually require power. On a similar note, our PiFi v3 product allows a Pi to take that role, and offer a RISC OS-friendly bridge.


Can I connect my Pinebok to a projector?
The computer's hardware offers graphics via its USB-C port. However, this is not currently supported under RISC OS. If you wish to output your RISC OS desktop to a projector, we offer a separate USB-to-HDMI/DVI/VGA adapter with suitable software. This isn't the fastest solution, due to RISC OS being limited to USB 2 speeds, but works well for presentations etc. R-Comp's entire theatre presentation at the SouthWest RISC OS Show in Feb 2023 ran in this manner from the demo Pinebok.


Can I upgrade my Pinebok?
Yes you can, although the number of internal upgrades are somewhat limited. As you've read, we offer RISC OS storage up to 300+GB. Internally, the standard 64GB eMMC module can be upgraded to larger capacities, although these have to be ordered from the Far East. There is also an optional NVME slot for PCI-E solid state discs. This can currently be accessed via Linux, but would be lovely for RISC OS...!


On that note, the laptop can be disassembled fairly easily. Unlike many modern laptops (especially ones as good looking as Pinebok), the back panel can be removed after releasing the retaining screws. Many laptops require you to pry the sides off the laptop (potentially damaging ports/connectors), but this isn't the case for Pinebook as the back panel meets the sides on the underside. This massively reduces the risk of damaging your laptop when opening it, with any scuff marks left invisible below the unit.


Once inside, you can access all main parts, and spares are available for each board and component. However, be aware that whilst storage is upgradable, CPU and memory are fixed.


I already bought a Pinebook Pro elsewhere, can I run RISC OS on it?
We offer a Support pack for Pinebook Pro hardware purchased elsewhere. This is priced exactly the same as the previous Pinebook Support pack - 150ukp inc VAT. Overseas users will pay 20% less as VAT is not applicable. In some cases, discounts may be available for existing customers who are already members of our other support packages, and/or wish to be more heavily involved in the development process.


The price includes RISC OS supplied as both download, and full disc image on a 64GB micro SD card, as well as updates for the lifetime of our product (and probably beyond!). A written instruction booklet is included, explaining how to prepare and configure your Pinebook Pro. Access to the download site and documentation is usually provided immediately upon payment, so that eager customers can get on and explore RISC OS on Pinebook whilst their micro SD card travels in the post.


Customers who purchase this pack receive access to exactly the same updates and facilities as those who buy the full computers from us, but obviously we cannot provide any warranty or guarantees concerning your hardware, beyond the assurance that the RISC OS software is widely tested on all the available model(s) of Pinebook Pro (at the time of writing).


I've waited 20 years, why shouldn't I wait longer for X, Y or Z?
There are always plenty of reasons not to buy something - it is easy to be negative! And, yes, if you wait a few more years, perhaps something else will come along. But you have to consider - given the very real issue of 64-bit only CPUs (already available), this is almost certainly the last 32bit-friendly, high performance ARM®-based laptop that we'll see before major OS and software compatibility issues rear their ugly head. Re-read this page, and instead of thinking of reasons not to support it, think about the good features, and how the community's support of our products has made the whole of RISC OS better. Then ask yourself, is that something you want to encourage and be a part of? We hope the answer is "YES!" (smile).

Customer Feedback
They say that the proof of the pudding is in the eating, so what has been the feedback from the Pinebok Pro early adopters...?

A very nice piece of kit ... The screen is nice and clear, and a useful resolution. - Mr RH.
It is faster than I expected and boot up very fast. - Mr GG.
I am very impressed. - Mr CH.
The PbPro is running superbly. -Mr KC.
The port runs fast. Congratulation. Will use it daily. - Mr RF.
From what I've seen so far, this is a machine I am going to enjoy!! :-))).
Overall impressions are very good. "Blimey, it's fast" :) - Mr CJ.
It's lovely to FINALLY be able to get a 'proper' RISC OS laptop with decent hardware and a good screen.
I have to say 'Bravo!' this is a lovely experience, using RISC OS on some really tasty hardware! - Mr RH (another one).
How to Order
If you're convinced, and would like to make Pinebok part of your family, or would like join the Support programme, please click here and fill out our enquiry form. We'll be in touch with you to confirm specification (etc.) as soon as possible - don't forget to include your phone number!

---
Website Copyright © R-Comp Interactive 2023+. info@riscoscomputers.co.uk
Arm® and Cortex® are registered trademarks of Arm Limited (or its subsidiaries) in the USA and/or elsewhere. All other trademarks acknowledged. Note that neither this website nor the products herein are affiliated with, nor endorsed by Arm Limited (or its subsidiaries).